Fresh Thinking for Quality in the Digital Era
Articles »
(October 11, 2018)
---
Fresh thinking for quality in the digital era
The most recent decade has seen rapid advances in connectivity, mobility, analytics, scalability, and data, spawning what has been called the fourth industrial revolution, or Industry 4.0. This fourth industrial revolution has digitalized operations and resulted in transformations in manufacturing efficiency, supply chain performance, product innovation, and in some cases, entirely new business models.
These transformations should be top of mind for the quality team and in particular quality leaders, since quality improvement and quality monitoring are among the top Industry 4.0 use cases companies actively pursue today. Many conversations with quality leaders make it clear that a large portion of them do not have a strategy related to Industry 4.0. In part, this is because they are focused on longstanding challenges in quality management; quality leaders are working initiatives around culture, competencies, processes, compliance, and reactive quality. Some quality leaders also perceive technology initiatives as outside their domain; therefore, they don't treat them as a priority.
As a result, many of the existing quality-centered Industry 4.0 initiatives are not being led by quality, but by IT, operations, engineering, or sales and marketing. In some ways, this is good. Quality should be a cross-functional responsibility, and the active participation and innovation from other functions is a welcome shift. However, quality leaders should be actively engaged to help ensure the success of these projects, or even better, actively leading them to success.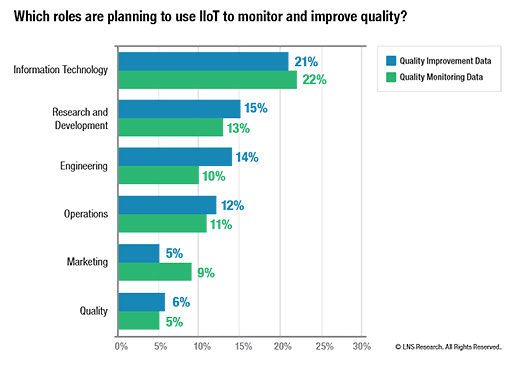 What is quality 4.0?
Quality 4.0 has been brought about by a long list of technology advances in several arenas that together enable innovation, new insights, connectivity between people, and connectivity between people and machines. A short and incomplete list includes:
• Inexpensive, highly capable sensors have made it possible to capture deeper insights about device performance. These devices may be manufacturing machinery, test equipment, transportation, consumer goods, or wearable technologies.
• Social media has enabled new collaboration paradigms (and now drive quality targets for some manufacturers), and technologies such as blockchain provide a distributed ledger that can track actions from all players in a value chain.
• The data from sensors, as well as data from social media, video, traditional business systems, traditional operational systems, and other sources, can be streamed back to centralized databases, creating massive quantities of data called Big Data.
• Machine learning or artificial intelligence (ML/AI) are analytical technologies that scour Big Data as well as traditional data to reveal previously unknown patterns. Traditional metrics might identify the number of audit findings, or analyze the standard deviation of parameters. ML/AI analyzes the data and determines outliers in the data, which can then be used to issue alerts, predict future events, or even autonomously make decisions.
Quality 4.0 is the application of these Industry 4.0 technologies to quality, but it isn't really a story about technology. It's about how that tech improves culture, collaboration, competency, and leadership. It's also about the digital transformation of management systems and compliance. And although these new capabilities are advanced, this isn't a futuristic vision. Leading manufacturers have already started the digital transformation and have already achieved results.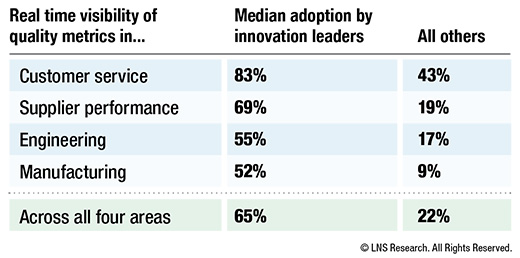 Just how real is Quality 4.0?
Although industry is in the early stages of adopting Quality 4.0, there have been a number of successful use cases from batch, process, and discrete industries. Many of the early use cases have applied Quality 4.0 technologies to manufacturing, the supply chain, and in-service products.
• Manufacturing. A leading consumer goods manufacturer applied machine learning and artificial intelligence to manufacturing process data to perform quality testing as an inherent part of the production processes. This investment leveraged existing manufacturing systems and data to drive new insights and higher levels of efficiency and in-service performance.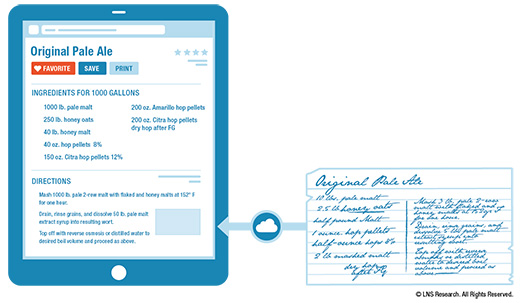 • Supply chain. A North American technology manufacturer deployed a system to gain near-real-time visibility into Asian supplier inspection data. This visibility virtually eliminated weeks of delay in quality analysis and alerts attributed to gathering and processing data, and has had a considerable impact on the size of quality escapes and supplier development.
• In service. Many case studies exist of manufacturers that use connected devices to improve performance against service level agreements (SLAs), or even convert business models from product-based to service-based (e.g., selling power-by-the-hour rather than selling an engine). A pharmaceutical manufacturer added temperature sensors to vaccines in transit to healthcare facilities. Vaccines must be temperature-controlled to ensure their effectivity. Through real-time monitoring of vaccine sensors, the manufacturer could identify at-risk vaccines and either prevent them from being compromised or quarantine those that were.
Competency and culture are important areas of Quality 4.0 as well. The increased transparency of near-real-time performance, as well as new and meaningful insights, encourages active engagement from a diverse set of stakeholders. The interest in Quality 4.0 use cases provides some evidence of this. One important finding is that companies that are most successful apply Quality 4.0 in a focused manner to achieve targeted gains. While this is always a good practice, it is important not to treat this technology as a panacea for all potential ills.
Although it's tempting to prioritize a supplier risk initiative over the company's Big Data initiative, don't.
Another important learning is that Quality 4.0 shouldn't be separate from other initiatives. It may be tempting to prioritize a supplier risk initiative over the company's big data initiative, but don't give in. These two initiatives complement each other. Lobby to get ML/AI insights into the performance of the supply chain.
There's a lot more to learn about Quality 4.0
LNS Research has just published a series of research about Quality 4.0 along with a framework to optimize strategies. The ebook, Quality 4.0: Impact and Strategy Handbook, explains the technologies, how they transform people and processes, existing concrete accomplishments by peers, and guidance to enable the transition from traditional quality to Quality 4.0. Download the ebook here.
Regardless of who leads the Quality 4.0 transformation, those who apply the technology to greatest effect will be the innovation leaders of tomorrow.
About The Author
Dan Jacob
Dan Jacob is a research analyst at LNS Research primarily focused on the enterprise quality management systems (EQMS) practice. Jacob has more than 20 years of experience in quality, reliability, risk, and safety across several industries, primarily automotive, aerospace and defense, high tech and electronics, and medical devices. Jacob also operated his own firm providing engineering consulting to the medical devices and metals industries. Jacob graduated Magna Cum Laude from the University of Pittsburgh with a bachelor's degree in mechanical engineering.
*Copyright on the content held by Quality Digest or by individual authors.